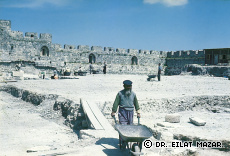 The Ottoman Period (1516-1917 CE)
At the end of 1516 CE, the Ottoman Sultan Selim I (1512-1520 CE) led his army to Jerusalem and took over the city without a battle. The Ottoman rulers introduced a centralized administration and brought about economic prosperity.
The son of Selim I, Suleiman the Magnificent (1520-1566 CE), epitomizes the golden age of the Ottoman Empire. During his rule, enormous efforts went into construction in Jerusalem, which began with the renovation of the city's water system and reached its peak with the rebuilding of the city walls from 1536-1541 CE.
1. Suleiman's Walls
During the time of Suleiman the magnificent, the city walls were constructed on top of the destroyed earlier fortifications.
2. The Dung Gate
During the construction of the city wall in the Ottoman period, the Dung gate replaced the Crusader gate of the Tannery. ♦
Copyright © 2023 Dr. Eilat Mazar, All Rights Reserved.