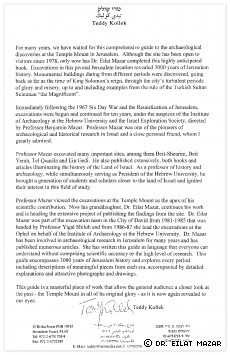 Open Letter From Teddy Kollek | 2.III.2000
For many years, we have waited for this comprehensive guide to the archaeological discoveries at the Temple Mount in Jerusalem. Although the site has been open to visitors since 1978, only now has Dr. Eilat Mazar completed this highly anticipated book. Excavations in this pivotal Jerusalem location revealed 3000 years of Jerusalem history. Monumental buildings dating from different periods were discovered, going back as far as the time of King Solomon's reign, through the city's turbulent periods of glory and misery, up to and including examples from the rule of the Turkish Sultan Suleiman "the Magnificent".
Immediately following the 1967 Six Day War and the Reunification of Jerusalem, excavations were begun and continued for ten years, under the auspices of the Institute of Archaeology at the Hebrew University and the Israel Exploration Society, directed by Professor Benjamin Mazar. Professor Mazar was one of the pioneers of archaeological and historical research in Israel and a close personal friend, whom I greatly admired.
Professor Mazar Excavated many important sites, among them Beit-Shearim, Beit Yerah, Tel Quasila and Ein Gedi. He also published extensively, both books and articles illuminating the history of the Land of Israel. As a professor of history and archaeology, while simultaneously serving as President of the Hebrew University, he brought a generation of students and scholars closer to the land of Israel and ignited their interest in this field of study.
Professor Mazar viewed the excavations at the Temple Mount as the apex of his scientific contribution. Now his granddaughter, Dr. Eilat Mazar, continues his work and is heading the extensive project of publishing the findings from the site. Dr. Eilat Mazar was part of the excavation team in the City of David from 1981-1985 that was headed by Professor Yigal Shiloh and from 1986-87 she lead the excavations at the Ophel on behalf of the Institute of Archaeology at the Hebrew University. Dr. Mazar has been involved in archaeological research in Jerusalem for many years and has published numerous articles. She has written this guide in language that everyone can understand without comprising scientific accuracy or the high level of research. This guide encompasses 3000 years of Jerusalem history and explores every period including descriptions of meaningful pieces from each era, accompanied by detailed explanations and attractive photographs and drawings.
This guide is a masterful piece of work that allows the general audience a closer look at the past—the Temple Mount in all of its original glory—as it is now again revealed to our eyes.
Teddy Kollek ♦
Copyright © 2023 Dr. Eilat Mazar, All Rights Reserved.