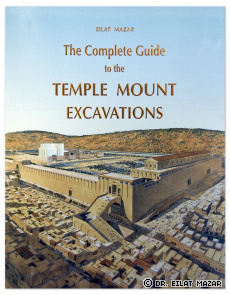 The Complete Guide to the Temple Mount Excavations Online
This is an online report on the archaeological excavations at the foot of the Temple Mount enclosure in Jerusalem. The excavations took place along the southern wall and southern part of the western wall. This area was one of the most important focal points of ancient Jerusalem.
The excavations were made possible following the 1967 Six Day War and the Reunification of Jerusalem. They started in February 1968 and were conducted for 10 consecutive years until 1978 and were directed by Professor Benjamin Mazar on behalf of the Institute of Archaeology of the Hebrew University of Jerusalem, the Israel Exploration Society and the Israel Department of Antiquities (now the Israel Antiquities Authority). This heralded a new era in Israeli archaeology, providing insights into the magnificent past of Jerusalem. The year-round excavations were conducted on a huge scale, with hundreds of workers, and eventually extended over an uninterrupted area of about eight acres (30 dunams). At the time, it became the largest archaeological endeavor ever undertaken in the State of Israel.
The excavations were continued, under direction of Dr. Eilat Mazar, at the southeastern part of the excavations area in 1986-1987, 1994.
This website will encompass 3,000 years of Jerusalem history, exploring every period, as revealed in the excavations, including descriptions of meaningful pieces from each era, accompanied by explanations and attractive photographs and drawings. It will allow the general audience a closer look at the many finds and in-depth analysis and studies. It will present scientific academic and popular publications as well as great amounts of new information. Due to the great size of the excavations and the mass of finds, the website will also serve as a valuable tool to present many of the excavations' finds.
The website will also include an easy-to-use orientation plan of the excavation site, presenting the different periods in different colors. This will allow you, the visitor, to navigate through the magnificent history of Jerusalem.
The full content of this website will be online in the near future. Check TempleMountArchaeology.com periodically for updated material, or click here to contact Temple Mount Archaeology. ♦
Copyright © 2023 Dr. Eilat Mazar, All Rights Reserved.