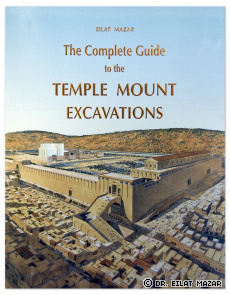 Copyright Information
Shoham Academic Research and Publication
ISBN: 965-90299-1-8
All rights reserved © 2002 Dr. Eilat Mazar and Shoham Academic Research and Publication.All rights reserved. No part of this
book, including the photographs, drawings and graphics, may be copied, translated, reproduced or retained by mechanical, electronic or any other means without written permission of the copyright holders.
Translated from the Hebrew by Don Glick and Nava Panitz-Cohen.
English copy-editing by Edna Sachar.
Design: Avraham Pladot
Execution: Sarah Hefetz
Printed in Israel 2002 by The Old City Press, Jerusalem
All drawings, photographs and graphics are by the Temple Mount Excavations 1968-1978, the Ophel Excavations 1986-1987, 1994, and Eilat Mazar, unless otherwise acknowledged, with the exception of those of unknown origin and the following:
Photos: Stanley Batkin — back cover; Leonid Federol — p. 83; Avinoam Glick — pp. 8,14,30,31,34,42,45,46, 47,48,53,54,57,79,80,81,85,89; Gabi Laron — pp. 1,9,12,63,68,73,83; Zeev Radovan — p. XIII; Ilan Sztulman — pp. 3,20,26,27,37,40,63,64,75,87,110.
Drawings: Balage Balogh — cover drawing, I,21,44; Nili Cohen — pp. 53,57; Nili Cohen and Martha Ritmeyer — pp. 54; Sarah Halbreich — pp. 25,75; Brian Lalor — pp. 94,96,102. ♦
Copyright © 2023 Dr. Eilat Mazar, All Rights Reserved.