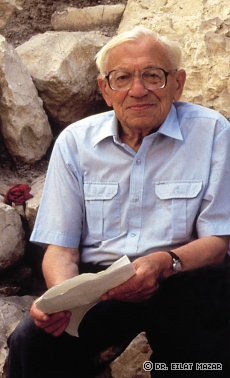 Benjamin Mazar
Benjamin Mazar (1906-1995) immigrated to the Land of Israel in 1929 as Benjamin Maisler. Mazar, an Israeli archaeologist and historian, received a Ph.D. in the Ancient Near East, and became involved in the archaeological research of the region.
His first projects included a survey of Gush Etzion, the excavation of a burial cave in Ramat Rahel, and a survey of Wadi Hawwarat (Emeq Hefer). In 1936-1940, Mazar conducted excavations in which the burial complexes and synagogue at Beth She'arim were revealed, a project which both excited the Jewish settlement in the Land of Israel and established his reputation as an archaeologist.
In 1943, Mazar began teaching Biblical history and historical geography at the Hebrew University of Jerusalem. In 1952-1961 he served as Rector and President of the University. Throughout these years his archaeological inquiries did not cease, and he conducted excavations at Tel Qasile and Beth She'arim. After his tenure as President of the University, he began a series of excavations at Ein Gedi, in which Tel Goren, the Chalcolithic temple, and the Byzantine settlement were uncovered.
Immediately after the 1967 Six Day War, Mazar began excavating Jerusalem. Previous to the war, he dedicated several years to different studies of the city, including writing a chapter on Jerusalem for the Encyclopaedia Biblica. His excavations began in the area adjacent to Robinson's Arch, directly west of the Temple Mount enclosure, and continued for ten years. Hundreds of volunteers from Israel and the world participated in the excavations and large tracts of land south and west of the Temple Mount enclosure were unearthed. At the time, it was the largest excavation ever conducted in Israel, and it yielded a wealth of finds from the Iron Age up to the Islamic period, including monumental buildings and paved streets from the Second Temple period as well as palace complex of the Early Islamic period.
In addition to his work as an archaeologist and scholar, Mazar also was involved in public affairs, taking a particular interest in the advancement of archaeology in Israel. For many years he served as President of the Israel Exploration Society; he edited the society's journal, Yediot, and was a chief editor of the Encyclopedia of Archaeological Excavations in the Holy Land. He also initiated much of the survey work in Israel and the founding of the Archaeological Survey of Israel. He was the chairman of the Archaeological Council of Israel for many years. Mazar worked together with Yigael Yadin in establishing the Institute of Archaeology as a research institute in the Hebrew University. He was also involved in the formation of the archaeology wing of the Israel Museum, was one of the founders of Yad Izhak Ben-Zvi, and contributed to the founding of the Department of Archaeology at Haifa University. ♦
Copyright © 2023 Dr. Eilat Mazar, All Rights Reserved.